In today's day and age, we are constantly being shown that there really is no such thing as being too safe when it comes to viruses and infections. The global pandemic, in particular, has raised more questions than ever before on how we should handle disinfecting our homes during and after recovery from a viral infection.
Hiring a professional maid service in Hawaii Kai is one of the most effective methods for keeping viruses at bay during these challenging times. In the meantime, read on to find out how to handle disinfection like a pro.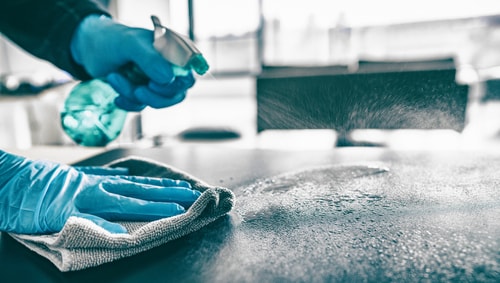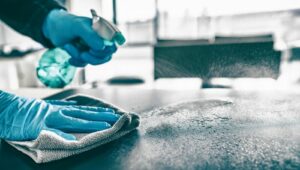 How do I disinfect my house after being sick?
As we've all probably learned, there's more than meets the eye when it comes to viruses. That makes taking necessary precautions all the more important. Here are some of the best things you can do to disinfect your home after being sick:
Improve ventilation
An important first step to ridding your home of illness is improving ventilation. This is particularly important in the rooms where someone was ill or suspected of being ill.
Viruses tend to stay in the air for quite some time even after we think they're gone, and improving ventilation will help make the droplets disappear faster while improving the quality of your indoor air.
Know what to sanitize
We don't tend to move much while sick. Still, paying special attention to disinfecting the areas where we've spent most of that time should be a priority. It's just as important to thoroughly clean the household objects you and your family came into contact with while you were sick.
Some high-touch Items are:
Remote controls
Laptops
Phones
Towels
Carpets
Clothing
Know where to sanitize
As mentioned, you should pay extra attention to disinfecting the most heavily used areas in your home. This is where you should be especially thorough.
Start with the usual suspects in your home:
The bedroom
Make sure to change the sheets and blankets, throwing the dirty ones in the washing machine and choosing the hottest cycle. It's preferable to let your bedroom air out for a day before putting new linens back on.
The bathroom
Out of all the rooms in your home, the bathroom tends to suffer the most. Make sure to deep clean it: disinfect the toilet, hard surfaces, towels, and all the faucet handles.
The kitchen
Wash the dishes with hot water or the hottest setting on your dishwasher. Don't forget to wipe down the refrigerator handles and keypads on your appliances while paying attention to hard surfaces as well.
How do you disinfect your house from viruses?
Keeping viruses out of your house can be challenging at times, and knowing how to keep it healthy is somewhat of a skill in itself. Use the following tips:
Clean first
This might sound very basic, but cleaning surfaces with just warm water and soap or detergent before disinfecting the surface is highly recommended. This helps in reducing germs and dirt on the surface before proceeding with the true germ killer, the disinfectant.
Using disinfectants
As viruses can spread very easily through contact, disinfecting hard and soft surfaces is a must-do. Among other disinfectants, diluted household bleach can be a good solution for disinfecting appropriate surfaces in your home.
If you are worried about not knowing how to properly use disinfectants, make sure to read EPA's six steps for safe & effective disinfectant use.
Keep yourself protected
You should strive to stay safe when handling these types of products, so wearing protective equipment is definitely desirable.
Use disposable gloves, masks, and eye protection while disinfecting and cleaning, discarding gloves after each clean. Doing this will minimize the risk of skin and lung irritation due to the chemicals used, as well as reduce splash hazards. If you use reusable gloves, make sure not to use them for anything else other than cleaning.
One final tip: don't forget to ensure adequate ventilation!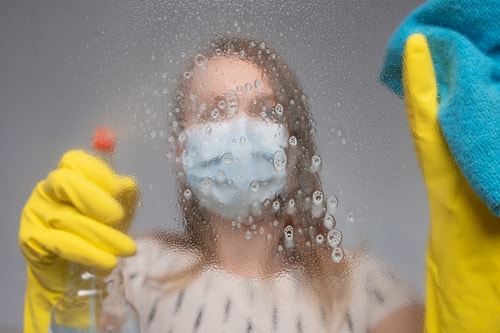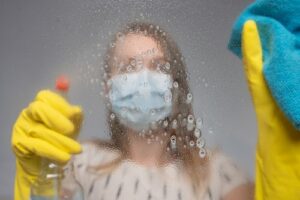 Where can I find a professional maid service in Hawaii Kai?
If you don't want to go through handling disinfectants or deep cleaning your home yourself, or you're unsure which products to use, Maid in Oahu has got you covered! The cleaners we match you with use top-shelf products to rid your home of dirt and germs and ensure optimal cleanliness.
The Maid in Oahu approach is always modified to be the absolute best fit for your home's needs. Your satisfaction is our top priority every step of the way.
Go for a short trip with the family to Sea Life Park while your expert cleaners take care of the rest. Contact us and get ready to enjoy flat-rate prices and a full range of top-quality cleaning services. Call now!