When it comes to house cleaning, there are two types of people in Mililani: those who use store-bought products and those who use DIY cleaners. Store-bought products are usually good quality and do a fine job of removing even the most stubborn stains, but recently there have been certain environmental and health concerns surrounding them.
This is why many people are switching over to DIY products, which are cheap, safe, and powerful enough to do the same job as commercial cleaners. Read on to learn about the top 3 DIY household cleaners that you can start using today!
What are the most useful DIY household cleaners?
In order to make your DIY cleaning products, you'll only need a few extra things from the store, as it's a good chance that you actually have most of the ingredients in your home. The items you'll be using for these cleaners are:
Hydrogen peroxide
Lemon
Baking soda
White vinegar
Dish soap
Essential oils
Make sure to have spray bottles in which you can pour the liquid products, for an easier application. Arm yourself with microfiber cloths and old toothbrushes and the cleaning can begin!
1. Multi-purpose cleaner
This universal cleaning product can be made with various ingredients and scents, depending on your preferences. The simplest recipe would be to mix 1 teaspoon of dish soap with 2 cups of water and around 20 drops of the essential oil of your choice. If you want a stronger mixture, add ½ cup of white vinegar and ¾ cup of hydrogen peroxide.
Pour the mixture into the spray bottle, tighten the lid and shake well. If you notice that the grime doesn't come off with this, sprinkle a bit of baking soda onto the surface and try again. It works as an abrasive and removes crusty spots. You'll also improve your cleaning routine by keeping around a multi-purpose cleaner that's easy to make.
2. Glass cleaner
One of the most frequently asked cleaning questions is about glass. People keep getting streaky windows even when they use their cleaner as instructed. The problem is in the cleaner itself, as it probably contains some form of soap. This is why homemade cleaners are better, because you control the ingredients.
Mix ½ cup of white vinegar and ¼ cup of rubbing alcohol with 2 cups of water. Shake the mixture in a spray bottle and use a dry microfiber cloth to wipe down the glass. Avoid cleaning your windows on a sunny day, as this may cause the mixture to dry faster.
3. Stone surface cleaner
Since white vinegar is not a perfect product for all types of materials, there should be an alternative cleaning product for stone surfaces like marble or granite. Whether it's in your shower or a countertop, if it comes in contact with vinegar, the acid will eat away at the protective layer and destroy the material.
A simple combination of water and dish soap does wonders in removing stains from stone. In case of stubborn dirt spots, sprinkle a tiny amount of baking soda and scrub away. You can now add this cleaner to your inventory, so the next time you're going through your cleaning checklist, you'll know what to use for your shower tiles and kitchen countertops.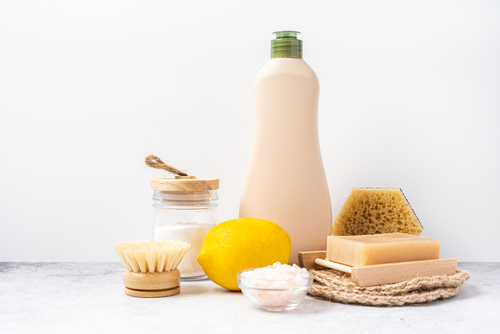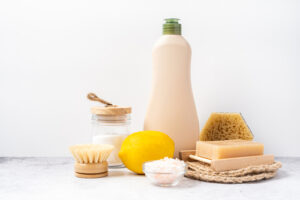 Where can I book a professional house cleaning service in Mililani?
If you'd like your home to be cleaned with organic and homemade cleaning solutions, then Maid in Oahu is the perfect company for you! The cleaners we work with are equipped with EPA-approved and potent cleaning supplies which they'll gladly use to clean your house in Mililani while you spend a relaxing day at Kualoa Regional Park with your loved ones. Contact us today if you'd like to ask further questions or book our services!