Dividing house cleaning can be a great bonding experience for couples. As making compromises and communicating are key to a healthy relationship, splitting housework should be no different.
If you are having trouble with a partner that is sleeping on house cleaning, this article will give you insight on how to go about motivating them to help around the house.
After all, splitting home cleaning should be a given if you are living under the same roof.
But, since home disinfection can be tiring, hiring a home disinfection service near Ewa Beach would be the best thing to do. Doing so can give you a lot of extra free time in addition to a professionally cleaned home.
To find out how to keep housework equal, read on.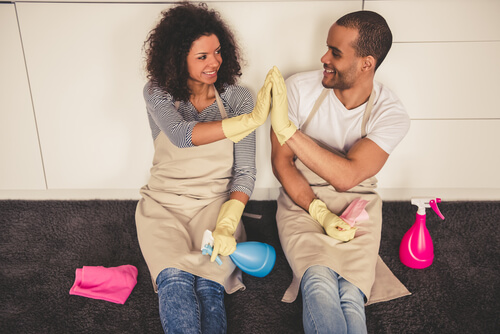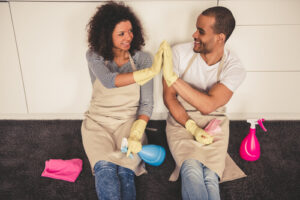 How do I get my partner to help around the house?
Here are some tips for motivating your partner to help with cleaning:
Communicate
As it is the most important part of any relationship, open and honest communication can also help you when cleaning is concerned.
Speaking your mind, and telling your partner that you are frustrated or tired can help avoid tense situations and take a lot off of your mind. Doing so will help encourage your partner to take some of the chores off your back.
Appreciate what they do
A small thing we might think, but it goes a long way. Showing your appreciation can be a great motivator for your partner.
Make sure to let them know that their efforts aren't going unnoticed and that their contribution is appreciated. This will keep your energy levels higher and give you both more time to spend with the family.
Also, don't forget that keeping the kids busy can make a night and day difference!
Don't question their methods
There is no one set way of doing chores. Criticizing your partner's methods can come off as unappreciative and can create unnecessary tension around something that should be a group effort.
Just because you might not like the way they do a certain thing, doesn't mean it's wrong. If you really don't like the way they do something, switch it up. As long as the job gets done! Be a team player and keep an open mind.
How do I split my housework with my husband?
Now that you are ready and motivated, it's time to make a plan.
Determine what tasks need to be done
Defining which house chores need to be addressed is the first step to making sure nothing gets overlooked around the house.
Making a cleaning schedule is a great way to systematically approach this since having a list is very helpful in itself.
Ideally, the schedule you and your partner should follow should look something like:
Clean the clutter
Dust and wipe down surfaces
Wipe down sinks and clean the bathroom
Clean countertops
Vacuum & mop
Do the laundry
Wash the dishes
Make the beds
Divide the tasks between you and your husband based on your preferences and the time each of you has on their hands. If you are unsure of what products to use for cleaning, EPA's got you covered.
The same should be done with other tasks outside of cleaning, such as:
Grocery shopping
Cooking
Getting children from and to school
Paying bills
Pet care
Where can I find home disinfection services near Ewa Beach?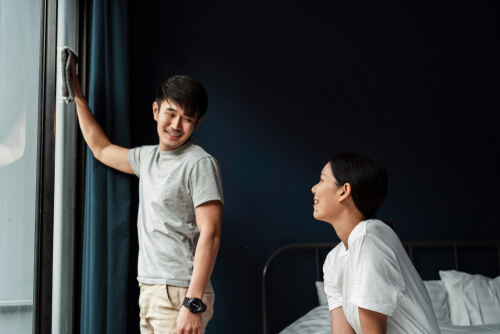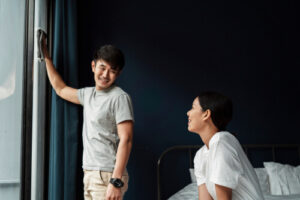 After a long day, there is nothing like coming to a clean home and spending a day with the family.
That's why Maid in Oahu is here! We want to transform the time you would use for chores into precious moments spent on something that fulfills you. Take a walk around the Pu'uloa Neighborhood Park with the kids while we make your home clean!
As we handle everything from standard to deep house cleaning, we know we can tackle any type of cleaning challenge you might have for us. What's more, we are also at your beck and call for any cleaning questions you may have such as what order you should clean your house.  Call us today!