Moving into a new home is an exciting adventure, a fresh start filled with limitless possibilities. But before you start arranging furniture and decorating, there's an essential task to be done – deep cleaning. Even if the previous occupants have tidied up the house, it's always a good idea to provide your new home in Kapolei with a move-in cleaning routine that is detailed and methodical to ensure your new property is spick and span before you settle in.
Here we present 8 effective strategies to deep clean your new abode in a thorough way. Armed with these tips, you're well-prepared to give your new home a thorough deep cleaning before moving in. Enjoy the process of making the space truly yours, starting with a fresh slate.
Should you deep clean the house before moving in?
Don't forget, one of the perks of deep cleaning before moving in is the accessibility. With empty rooms and no furniture in the way, this is your best chance to thoroughly spiff up your new home. In the excitement of moving, sanitation may be the last thing on your mind but it's important. With these 8 effective strategies, you can easily create a sparkling, inviting space that's ready to become your home:
1. Plan Ahead
Create a cleaning plan before you start. A structured approach can make a big job feel more manageable. Divide the tasks room by room, focusing on one area before moving to the next. This way, you can keep track of your progress and ensure no corner is overlooked.
2. Start from the Top
Always start from the top down. Start with the ceilings, ceiling fans, and light fixtures, then move to walls, windows, and finally, floors. This ensures any dust or debris that falls during cleaning won't recontaminate an area that was already taken care of.
3. Steam Cleaning
This is a brilliant way to deep clean your new home, especially in bathrooms and kitchens where grime can build up. Steam cleaners use hot steam to eliminate dirt, grease, and bacteria, leaving your surfaces and appliances looking and smelling fresh.
4. Carpet Cleaning
It's always advisable to consider hiring a professional or renting a carpet cleaning machine if you're confident in your DIY skills. Deep cleaning of carpets is crucial as they can trap allergens, dirt, and smells.
5. Baking Soda and Vinegar
These are must-have items for deep cleaning. Baking soda is excellent for scrubbing off stubborn stains on hard surfaces and for freshening up carpets and upholstery. Vinegar mixed with water is a fantastic all-purpose solution, perfect for windows and surfaces.
6. Deep Clean Appliances
Clean inside and out of all your appliances like the oven, refrigerator, dishwasher, and washing machine. Remember, vinegar and baking soda can come in handy here, especially for tackling a grimy oven or deodorizing a refrigerator.
7. Take Advantage of Empty Cabinets and Closets
With the house being empty, this is the best time to clean all the cabinets, drawers, and closets that are often overlooked. Make sure to wipe the insides, outsides, tops, and especially the corners, where dust and dirt can easily accumulate. Once you're done, let them air out to ensure they're completely dry before you start filling them with your belongings.
8. Sanitize High-Touch Areas
Door knobs, light switches, cabinet handles, and window pulls are often overlooked during cleaning. These areas can harbor germs, so take time to wipe them down with a disinfectant.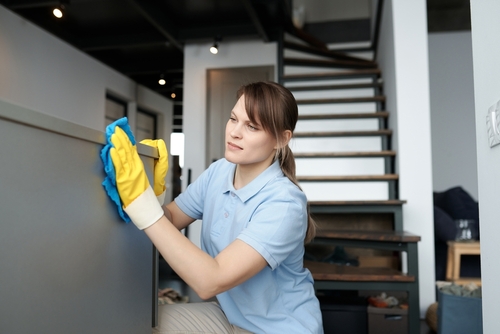 Who in Kapolei should be my first choice for a move-in cleaning?
With a team of experienced and vetted technicians, Maid in Oahu is your go-to provider if you want to keep your property sanitized and inviting throughout the year. We excel in all types of cleaning services with a focus on dependability and absolute customer satisfaction.
Whether you need a complete move-in cleaning checklist, pointers on how to speed up your spiffing-up routine, or would like some advice on which areas to tackle when moving out, our technicians will provide you with all the answers and then some.
Reach out to us while you're driving down Interstate H-1 to your new home in Kapolei and we'll be there in a rush to help you settle into your freshly spruced-up living space. Call us today!