Moving to a new home is usually a hectic and demanding process, requiring careful planning and organization. One crucial aspect that often gets overlooked during these stressful days is the thorough cleaning of both your old and new property. As you prepare to say farewell to your current home and embrace a new chapter in a different location, it's essential to leave behind a clean and tidy space for the next occupants or ensure your new home is sparkling clean for a fresh start. 
This is why we believe it's important to share these valuable cleaning tips to streamline your move-out cleaning process in Kapolei. Whether you're a seasoned mover or embarking on your first relocation adventure, these tips will help you tackle the cleaning tasks efficiently and ensure a smooth transition. From overlooked areas to specialized cleaning techniques, we've got you covered. Get ready to make your move-out experience a breeze! Happy moving!
What should I clean when moving house?
A smooth move-out process begins with leaving your old home in a clean and well-maintained state. By following these cleaning tips and paying attention to essential areas like the kitchen, bathroom, living areas, bedrooms, and outdoor spaces, you can ensure a stress-free transition. Leaving a clean home reflects your respect for the property and sets the stage for a positive moving experience.
1. Kitchen
The kitchen is one of the most important areas to clean before moving out, so make sure to:
Thoroughly clean all kitchen appliances, including the refrigerator, oven, stove, and dishwasher.

Wipe down and disinfect countertops, cabinets, and drawers.

Clean the sink and remove any limescale or mineral deposits.

Empty and sanitize the trash bins.
2. Bathroom
A clean and hygienic bathroom is essential for a smooth move-out process. Focus on:
Scrubbing the bathtub, shower, and toilet.

Cleaning the sink, mirrors, and vanity.

Removing any mold or mildew from tiles and grout.

Emptying and disinfecting the trash bin.
3. Living areas
When it comes to the living areas, ensure they are left in pristine condition by:
Dusting all surfaces, including furniture, shelves, and electronics.

Vacuuming or sweeping the floors and mopping if necessary.

Spot-cleaning any stains on carpets or upholstery.

Wiping down windows, blinds, and curtains.
4. Bedrooms
Don't overlook the bedrooms when preparing for a move-out. Remember to:
Dust and wipe down all surfaces, including dressers, nightstands, and headboards.

Vacuum or sweep the floors, paying attention to corners and baseboards.

Launder or dry clean curtains and drapes.

Empty and clean out the closets.
5. Outdoor Areas
If you have any outdoor spaces associated with your home, don't forget to clean them as well:
Sweep the porch, patio, or deck, removing any debris or leaves.

Clean windows and screens.

Trim overgrown bushes or plants.

Mow the lawn and tidy up the garden.
How long does move-out cleaning take?
Performing a thorough move-out cleaning requires time, effort, and attention to detail. The duration of the cleaning process can vary depending on the size of your home, its current condition, and the specific cleaning tasks involved. While some tasks, such as dusting and wiping surfaces, can be accomplished relatively quickly, others, like deep cleaning carpets or scrubbing kitchen appliances, may take more time.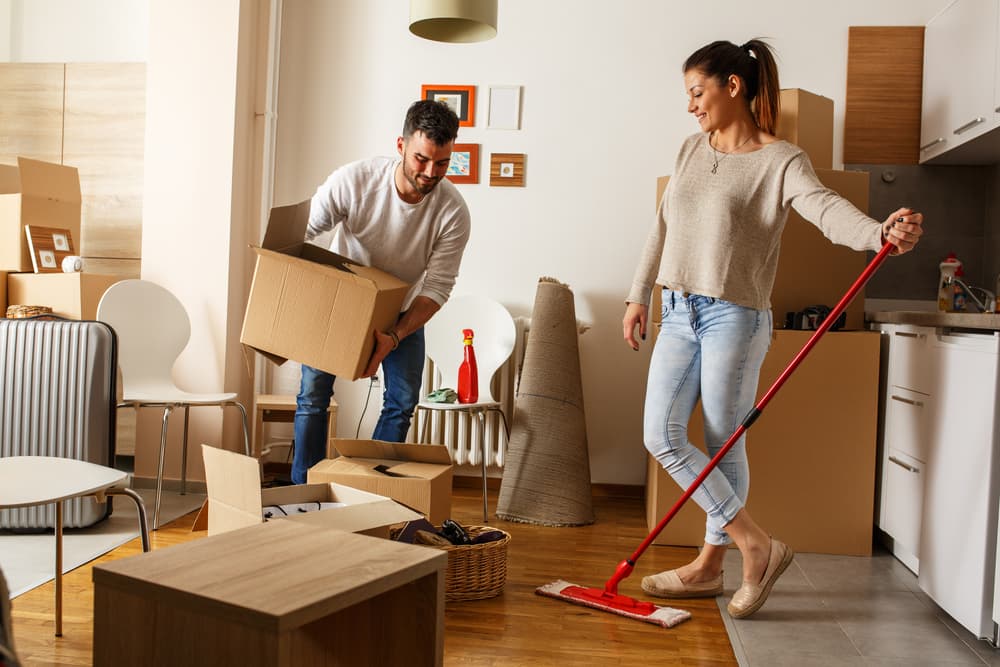 If you're short on time, consider enlisting the help of professional cleaning services to ensure a comprehensive and efficient cleaning process. Their expertise, efficient and safe cleaning products and specialized equipment and know-how can expedite the cleaning process, leaving you with more energy to focus on other essential aspects of your move. 
Who offers dependable move-out cleaning in Kapolei?
If you're feeling overwhelmed with your upcoming move and need professional cleaning assistance, look no further than Maid in Oahu, your trusted partner for all your move-in and move-out cleaning needs.
Our experienced team is dedicated to providing top-notch service, ensuring that your old home is left spotless and your new home is fresh and ready for you to settle in. Leave the stress of cleaning behind and let us handle the dirty work, particularly if you need thorough deep cleaning services.  
Contact us today and experience the convenience and peace of mind that comes with our reliable cleaning services, whether you're located near the University of Hawaiʻi or anywhere else in the surrounding area.