As a natural material, wood makes every room feel warm and cozy. And when you have lovely wooden surfaces, you want to keep them looking brand new. Hiring a maid service in Pearl City may be the best solution for having shiny wood if you're busy and can't care for it yourself.
However, wood maintenance is pretty straightforward and there are only a couple of things you need to know, so we've compiled all of them into this article. Keep reading to learn more!
How do you clean dirty wood?
Although every store has a couple of different wood cleaning products, chances are that the best solution for it is already in your home. Instead of spending a lot of money on various cleaning products that do the same thing, just look inside your pantry.
The best homemade cleaner for wood consists of these ingredients:
Any type of mineral oil

Dish soap

Damp microfiber cloth

Baking soda

Lemon juice
Depending on the type of wood you're cleaning, you may choose to make a paste from mineral oil, dish soap, and baking soda or a spray from lemon juice and mineral oils. If your wood is engraved, use an old toothbrush to get into the creases and scrub away all the dirt.
The most important thing to remember is to always first wipe down the product with a damp and then dry microfiber cloth. This removes excess moisture and saves the wood from deteriorating. 
What is best to clean wood with?
While white vinegar is a wonderful DIY cleaning product for stainless steel, it doesn't mix well with materials such as stone or wood. It tends to eat away at the protective coat and causes the material to become porous. 
That being said, the best wood cleaning product is the mineral oil and lemon juice mixture. However, the surface tends to be very greasy, as the oil leaves a residue, so you can wipe the residue with a damp cloth. Leaving it without wiping can make the wood sticky and more dust prone to collect dust.
When you have a flat wooden surface, like a bookshelf or coffee table, you can make a multi-purpose spray and clean it every 3-4 days. All you need is a drop or two of the dish soap, a bit of baking soda, and warm water. Adding very little dishwashing liquid means that you don't have to rinse the surface after cleaning.
Should I clean wood with water?
Wood does not react well to moisture, so it's not recommended to clean it with water. If you still opt to do this, make sure to not use too much and always wipe away the excess moisture, preferably using a damp and then a dry microfiber cloth. Wet wood expands and tends to break and rot, so be extra careful when cleaning it.
When it comes to cleaning the wood around your windows and mirrors, try not to let the cleaning product drip onto it. Apply the solution to a cloth and wipe the surface with it. After that, go in with a dry cloth.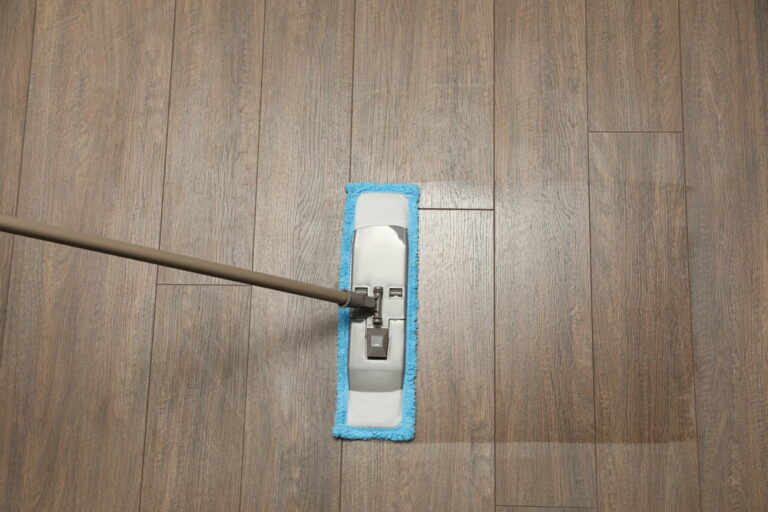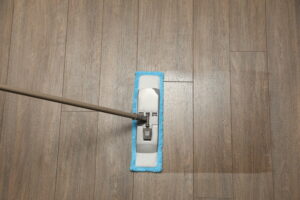 Looking for the best maid service in Pearl City?
If all these rules and products are too much to handle, don't worry! Maid in Oahu is here to help! With the assistance of the maids we work with in Pearl City and surrounding areas, your wooden surfaces are sure to be squeaky clean at all times. And the best part is that you don't have to waste any energy and time. 
The maids we work with are equipped with the right tools and knowledge, and they're ready to tackle any type of dirt inside your engraved wood. While they take care of it, go and enjoy a relaxing walk near the Ko'olau Range with your loved ones. Don't hesitate and give us a call today!