Most professionals spend the largest part of their work week at the office, so it's very important to feel safe and comfortable there. A neat and tidy office space promises protection against health hazards, which means you can conduct business without worrying about getting sick. Office cleanliness has been the number one concern of most businesses since the start of the COVID-19 pandemic.
Knowing how to perform office sanitization properly is the key to preventing the contamination of commonly used surfaces with pathogens, including the novel Coronavirus. For the most thorough cleaning and disinfection, hire dependable disinfection services in Hawaii Kai. Also, educate your team on the best hygienic practices to adopt.
How do you sanitize office equipment?
Many surfaces in your office are touched by a lot of people daily, from photocopiers to stationery, which increases the chance of infection. In order for you and your coworkers to stay healthy and protected, learn how you can maintain hygiene at the office at all times. Here is how to sanitize some of the most common pieces of equipment at the office:
Put on latex gloves.
If you're cleaning a device, such as your computer monitor, make sure it is turned off before cleaning.
Mix dish soap with water.
Dip a microfiber cloth in soapy water to dampen it.
Next, gently wipe the surfaces. You may also spray less sensitive surfaces with a cleaning solution. Don't let moisture get into your devices or it may damage them.
Let the surfaces air dry or blot out the moisture with another, dry cloth.
Then, sanitize using 70 percent isopropyl alcohol or disinfecting wipes. This step is necessary to ensure the elimination of pathogens, as cleaning itself doesn't remove all of them.
Don't turn on the devices until they're completely dry.
Remove your gloves and wash your hands thoroughly.
These steps can be applied to most parts of the workplace, such as your mouse, keyboard, monitor, desk, chairs, printers, and photocopiers. Learn other tips and tricks for office cleanliness, such as how to talk to a coworker about their personal hygiene habits. Also, check out the U.S. Department of Labor guide on how to prepare your office for coronavirus.
What should be used to clean and disinfect?
Before you begin with the process of office upkeep, research what cleaning and disinfection recommendations for office spaces are. One of the crucial aspects is choosing the products to use. The product must be effective as well as harmless for the surface you intend to utilize it on.
Cleaning, which reduces the quantity of germs on your surfaces, can be performed with an all-purpose cleaning product. For disinfection, purchase an EPA-registered disinfectant. Always do your research to make sure that a disinfectant is used against the germs you wish to target. Also, read the product's label for instructions on proper use.
How do I hire superb disinfection services in Hawaii Kai?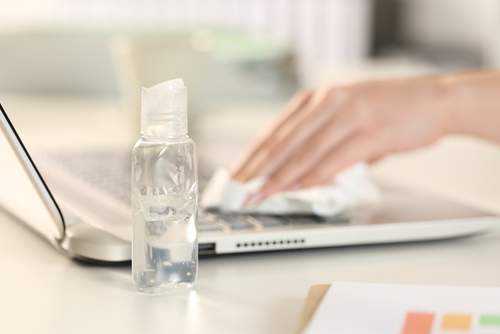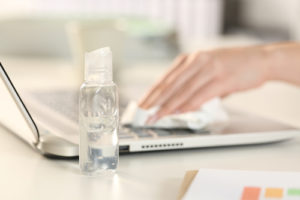 A busy workplace can become germ-infested fast while the team is occupied with their many responsibilities. Instead of having to worry about touching a contaminated surface, relax at Sandy Beach after work without a care in the world. Book the specialist services of Maid in Oahu and rest easy because your office space will always sparkle.
We are a locally owned business motivated to provide our neighbors with the best quality cleaning and disinfection. Book expert services in less than a minute. Your cleaning professionals will arrive on time and equipped with the finest cleaning products. We offer all clients a 100% satisfaction guarantee. Contact us and get the cleaning your office deserves!