Our bedroom is our sanctuary after a stressful day. A bedroom that is neat, organized and good looking makes for better sleep, while one that is disorderly will have the opposite effect. Keeping your home in Kaneohe, HI, constantly in pristine condition may sound like an arduous task, but it is absolutely feasible if you take the right approach (or book professional home cleaning services).
With the constant evolution of the hygiene industry, maintaining your home has never been easier. In previous articles, we discussed the best ways to clean our living rooms; now we'll do the same for bedrooms. Read on to learn how to tidy up your bedroom like a pro!
What is the proper way of cleaning a bedroom?
There is no particular order of doing these tasks because the frequency of doing them differs from home to home, but they can all be summed up in a couple of simple categories. These include:
Make your bed every morning
No matter how sleepy you are, or even if you didn't have your morning cup of coffee, make sure to at least straighten the blanket. Wouldn't it be so wonderful to dive into a neat and tidy bed after a day with an overflowing schedule? Those small additional steps will mean a lot when they stack together.
Take the garbage out
Cotton buds, tissues and other small trash can pile up pretty quickly. It is recommended to have a small wastebasket in your room, but avoid throwing any food in it, like leftovers from late night snacks, because the smell can quickly become unpleasant.
You can find an inexpensive wastebasket in a local store or order one online. Don't forget to use a plastic bag to wrap the inside of the basket. Throw any trash in your sight in the basket, tie the bag, and get rid of it.
Take care of any laundry
Examine your clothes and throw the dirty ones in the laundry basket. Bring clean laundry from the dryer and sort it right away. Don't let it pile up, because it can spiral out of control faster than expected. Just a minute or two a day can ensure that you don't have to deal with that huge pile of laundry.
Change your bedsheets
Changing your bed sheets regularly is of utmost importance. Even if you shower every day, we still sweat during the night, and some people like to have a snack in their bed while watching a movie or reading a book. Maintaining a clean bedding can help prevent allergies and irritations.
Give it a good cleaning
Cleaning your bedroom involves wiping the walls, furniture, doors and windows with a damp cloth. Use appropriate disinfectant for various surfaces. For example, you can't use the same chemical for cleaning your floor and the screen of your TV or computer. After the damp cloth, use the dry one to prevent any excess moisture from damaging your belongings.
A vacuum cleaner is an invaluable asset to keep your floors free from dust or pet hair. You may also use sticky rollers to remove any hair that the vacuum couldn't reach. From time to time, it is also recommended to wash the curtains and the rugs.
Depending on your circumstances, you can wash them in a machine, by hand, or even hire services of trained professionals every once in a while to deep clean those particularly fluffy rugs.
How often should bedrooms be cleaned?
That largely depends on the needs and habits of each individual household. Making the bed should be a part of our everyday routine. Take out the trash as soon as it is near full, or once a week. Take care of the laundry as soon as possible to avoid cluttering. Change your bedsheets once a week or at the most every two weeks.
Deep clean should be performed every 3-4 months as you want to avoid a build up of grime, viruses and bacteria. Deep cleaning your curtains and rugs can be done every 3 to 6 months or so.
Where in Kaneohe, HI, can I book expert home cleaning services?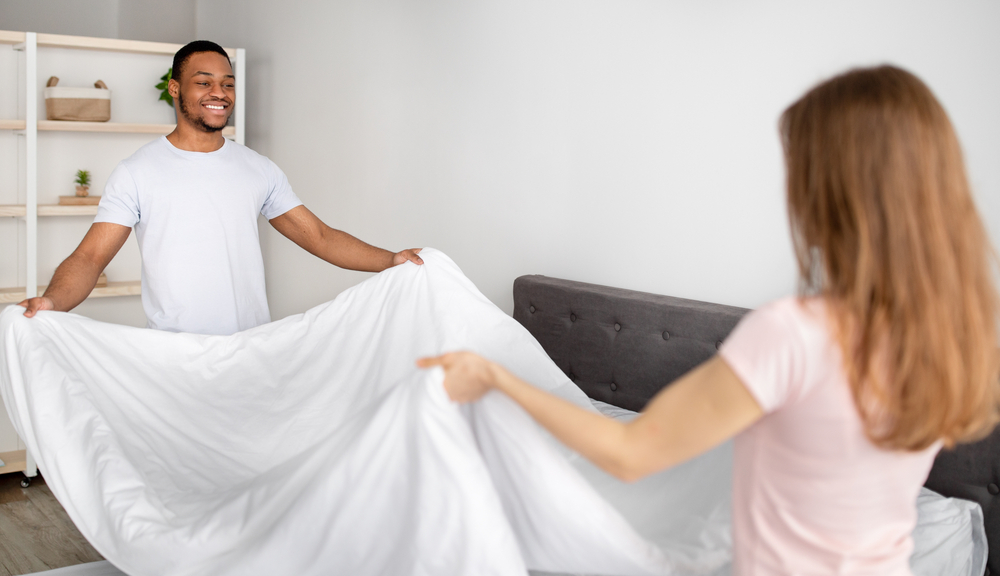 Whether you need a reliable cleaner to tidy up your child's room or someone to keep your entire home in Kaneohe clean at every moment, here at Maid in Oahu, we have a team of highly professional cleaners that will make your home sparkling clean, while you can focus on your family, job or hobbies.
Reach out to us today and enjoy a leisurely walk by the Windward Community College while the experts make your chores go away.