Keeping your fridge clean and odor-free is essential for maintaining a healthy home environment, and it's certainly necessary to leave a clean fridge when moving out of an apartment.  While many chemical-based cleaning products are readily available, natural cleaning methods can be just as effective. 
You can keep your fridge clean and germ-free without exposing your family to harmful ingredients. Whether you want to avoid getting in contact with cleaning products or simply don't have enough time to do it thoroughly, scheduling an appointment with meticulous house cleaning services in Ewa Beach, HI, is the most effective solution in most cases.
 If you still prefer cleaning your own fridge without coming in contact with harsh chemicals, here's a list of common household ingredients you can use.
What is the best natural way to clean a fridge?
A clean fridge not only prevents the growth of harmful bacteria but also helps your food last longer. While many easy-to-use products are available in the market, they might not be the best option for those who suffer from allergies or respiratory and skin conditions.
Thankfully, there are many equally effective natural ways to clean your fridge.
Vinegar
This is an excellent natural cleaning agent that can be used to clean almost any surface, including the fridge. Mix equal parts of water and vinegar in a spray bottle and use it to clean the shelves, drawers, and walls of the fridge. This substance kills germs and neutralizes unpleasant odors.
Baking Soda
As another fantastic natural cleanser, it can help you keep the fridge clean and odor-free. Mix a tablespoon of baking soda in a cup of warm water and wipe down all the surfaces with a clean cloth. Baking soda helps remove any bad odors, and its abrasive properties will help remove any stuck-on grime.
Lemon Juice
This is a well-known natural antiseptic that will not only clean your fridge but also keep it germ-free. A few tablespoons of lemon juice and some warm water can be used to wipe down the fridge's interior and exterior parts. Lemon juice kills germs, while its fresh scent can help eliminate undesirable smells.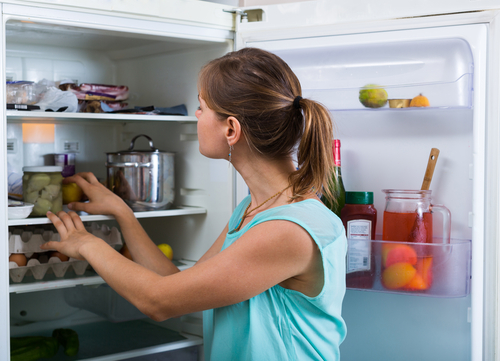 Activated Charcoal
Absorbing bad odors can also be achieved using this natural substance you can find in most health food stores. Placing a small bowl of activated charcoal inside the fridge will help eradicate unpleasant odors. 
Salt
 persistent grime can be efficiently scrubbed away by this natural abrasive. Pour a tablespoon of salt into some warm water and use the mixture to clean the surfaces of your fridge. Salt also has antibacterial properties, so it can help keep your fridge germ-free.
In addition to these natural cleaning methods, here are some other tips to help you keep your fridge hygienic:
Regularly check the best-by dates of your food and discard any expired items.

Keep it organized and store food in sealed containers to prevent spills and contamination.

Clean up any spills immediately to prevent them from sticking to the surfaces of the fridge.

Defrost the freezer compartment regularly to prevent buildup.
Where can I find reliable house cleaning services in Ewa Beach, HI?
If you need professional help keeping your home spotless with healthy and eco-friendly products, opting for professional service is the safest and most cost-efficient way to go. Particularly if you or anyone in your household suffers from allergies or respiratory issues. The experts know exactly what kind of cleaning supplies and products to use, so you don't need to do all the research or try out various green products until you find the one that suits you. 
A team of experienced cleaners can tidy up your kitchen cabinets with great care, efficiently clean a stove top, or thoroughly remove all the hardened buildup from your oven.
Have a day to yourself and leave the chores to experienced, highly skilled cleaners. Whether you live near James Campbell High School or anywhere else in the area, give us a call or book an appointment online.