Are you planning to move into a house that hasn't been lived in for months or even years? If so, giving it a thorough cleaning shortly before your big moving day should be a top priority. While booking a professional move-in cleaning service in Mililani is by far the most effective way to deal with the actual cleaning tasks, there are still some things that you'll have to do on your own.
In the following article, we'll give you some pointers on how to make sure a neglected home is safe and ready to admit you and your loved ones. Keep reading to learn more.
How do you clean a house that hasn't been lived in for years?
It's always recommended to deep clean a house when you move out so that it's ready to admit new owners. However, even if the previous tenants have done this, a home that hasn't been used in a long time is still going to be very dirty and in need of a comprehensive cleaning.
We recommend doing some or all of the following:
Make a detailed plan
Before you start cleaning, take a good look around the house and write down everything that needs your attention. Try to estimate how much time it's going to take you to do and list all of the supplies you'll need to use. We recommend looking at the EPA-approved products. Don't forget protective gear, such as gloves and face masks.
Throw away all of the unwanted items
In some cases, the previous homeowners have left some of their belongings behind. Since these items have stayed in one place for years, they've likely accumulated dust, dirt, cobwebs, and sometimes even mold. It's best to throw all of that away. Get a few garbage bags and use rubber gloves when handling these items.
Inspect plumbing and electricity
If the house has been vacant for a lengthy amount of time, there's a chance the utilities are shut down. Give all of these systems a visual inspection and call in the professionals if anything seems out of order. 
Deep clean the entire property
In order to efficiently move in, you need to wash and disinfect every inch of your new home. This includes the rooms, walls, doors, ceilings, as well as the area around the house. Start from the fridge and the entire kitchen, and then move on to the living room. After tackling the bedrooms, finish with the bathroom. Finish the cleaning by thoroughly vacuuming and mopping the floors.
Renovate, restore and repair
During the cleanup, you may have discovered that some objects are damaged or need to be restored. This can include repainting the walls, fixing the flooring, changing light bulbs, doorknobs, or a faulty faucet. Restoring a neglected property tends to be a long but satisfying process, and it makes living in it all the more special.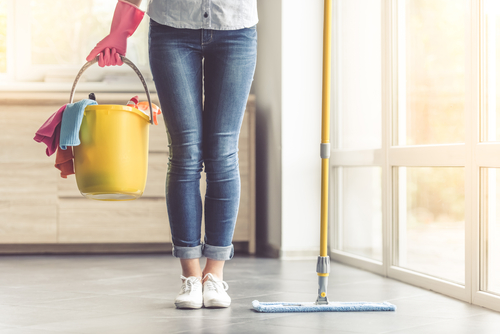 Who offers a reliable move in cleaning service in Mililani?
As you can see, the move-in cleaning is by far the most exhausting and time-consuming part of moving into a home that hasn't been used for awhile. That's why Maid in Oahu is here for you! We work with cleaners who specialize in move-in cleanings in Mililani and are known for their dependability and attention to detail.
Have a relaxing day off at the Kualoa Regional Park with your family and leave the mess to us. Contact us today!