The most annoying type of housework is dusting. It's messy, dust flies everywhere and it's already back the next day. In Kailua, people solve this problem by hiring home cleaning services. This is the safest way to ensure that your home is spotless and dust-free.
While dusting can sometimes feel like a never-ending task, there are a few ways to speed up the process and be more effective. We've created a list of 4 tips to help you keep the dust away from your home for longer periods of time. Keep reading to learn more.
How do you clean dust without it going everywhere?
When dusting, you're unable to control the fact that the dust lingers around the room as soon as you wipe a surface. However, here's what you can control:
1. Work from top to bottom
The only way that the dust falls is down. If you start cleaning the coffee table before the bookshelf that hangs above it, it will end up with more dust from above. Take care of the upper and the tricky parts of the room first and finish off with a vacuum cleaner.
2. Collect dust bunnies with a vacuum
It's pointless to throw away several cloths and rags just to clean a particularly dusty area. Moreover, if you're dealing with sticky grease, you'll waste more time scrubbing.
A simple solution for extra dusty areas is using a vacuum cleaner. It effectively picks up all the larger particles of dust and dirt, leaving a thin layer that you can easily wipe.
3. Invest in a microfiber cloth
While you can wipe the surfaces with any type of rag, microfiber cloth is known for its efficiency. It picks up more dust than any other cleaning towel without smearing it around. You can find them in every shop and are cost-effective because you won't need to buy them again soon. One cloth can be used and washed plenty of times before it's time for a new one.
Also, these are the best thing to use for cleaning wooden drawers, as they can effectively pick up tiny dust particles from the creases and corners.
4. Utilize your mop pole for dusting
A mop handle is pretty useful when it comes to areas that are hard to reach. Instead of kneeling while trying to reach behind your bed, put a damp cloth on a mop pole and make your life easier. You can also use a flathead mop for cleaning your walls. Spray a bit of water on the mop and glide it on the walls. You'll notice the difference immediately.
Should I dust with a damp cloth?
There is no right answer for this, as you should use both a damp and a dry cloth when dusting your surfaces. Once you've dusted the upper parts of your room, wipe the surfaces with a damp cloth, following with a dry one, to pick up the moisture. When the surface is dry, the dust tends to stick to it less.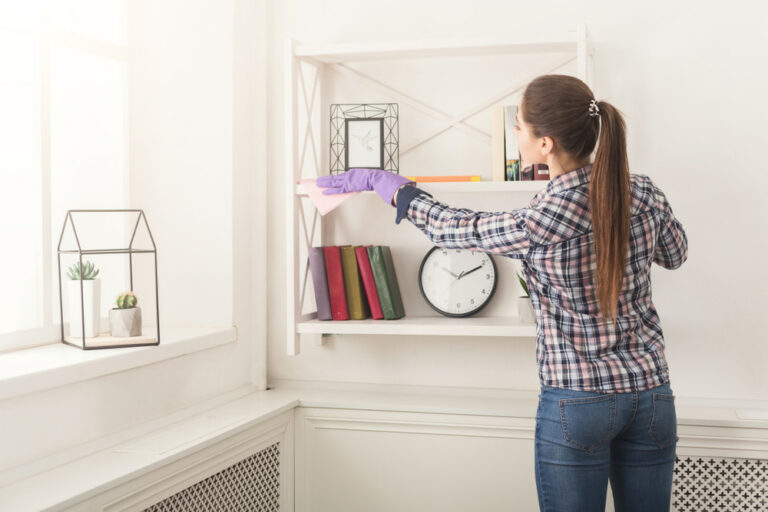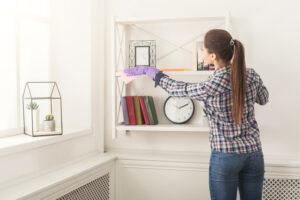 Do you live in Kailua and are in need of professional home cleaning services?
Dust is the biggest enemy in every room. And when you feel like you need extra help, you can always give Maid in Oahu a call! We work with cleaners in Kailua and surrounding areas and they are more than ready to tackle the dust in your home.
With the right set of tools and skills, not even the tiniest dust particle can escape their cloth. Take a relaxing day off and visit the Lanikai Beach with your family and loved ones and leave the dust to us. Don't hesitate, contact us today!